Made in… Ethiopia? Yes, Ethiopia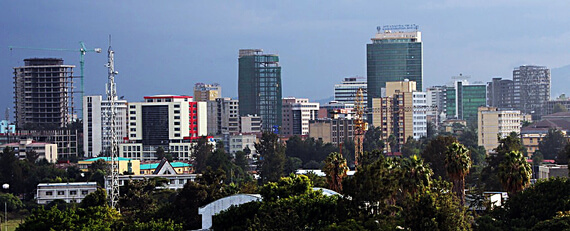 Source: Huffington Post
By Jennifer Schwab
ADDIS ABABA — So we got used to "Made in Japan," "Made in China," "Made in Hong Kong" and most recently "Made in Vietnam."  There's going to be a new kid in town, but he's not Asian.  Prepare yourselves for "Made in Ethiopia."
Much has been written about the "BRIC" countries — Brazil, Russia, India and China – saying these giants would lead the new world economy.  And certainly to some extent, they are.  However, the next wave may well be the "EMIC" countries – Ethiopia, Myanmar, Iran and Colombia. I wrote about the prospect of EMIC coming on strong last summer.
With this in mind, I ventured to Ethiopia to investigate further the economic and sustainability potential of this large and populous nation.  Ethiopia is best known for its deceased long-term ruler, Haile Selassie, who was credited with embracing multilateralism and Collective Security which led to Ethiopia becoming a charter member of the U.N.  While he passed in 1975, he is still a national hero and is widely hailed as the face of the first free nation in Africa. In the early 70s, with the cold war and socialist/Marxist views spreading across the globe, the disenfranchised sector of the Ethiopian population namely the farmer, with the support of the young university students started revolting. Soon, a handful of army leaders joined in the anti-monarchy movement which quickly led to the demise of the Haile Selassie regime, replaced by the Derg Regime, which some call, one of the most violent regimes in Ethiopian history. The Derg ruled the country from 1973 to 1992 until it was ousted by the EPRDF (Ethiopian People's Revolutionary Democratic Front) which still leads the country following ethnic federalism ideology and a market led economy. The country of 90 million is now truly independent, and while still technically an LDC, or less developed country, the EPRDF is on a mission to bring long term, sustainable economic growth and expansion.  I found that while it is not open season for "carpetbaggers," anyone with a great business idea that can help elevate Ethiopia's economy will have a legitimate shot at admission.
I started my due diligence on how things have changed with a member of the Ethiopian diaspora, San Diego-based entrepreneur, Feben Yohannes. Upon reentering Addis Ababa after 15 years of absence, she commented, "My people have much to be proud of, the development that has occurred over the past 15 years is by Ethiopians, for Ethiopians.  And knowing that Rome wasn't built in a day, the city will continue to improve." She was visibly awestruck by the airport expansion, extensive roads, bridges and freeways constructed or currently under way.
She also noted, "kids on the street looked clean, well-fed and well-dressed compared to 15 years ago. The heart of the city is beating with an air of opportunity. Addis used to be the playground for the few, now it is a thriving cosmopolitan city for the masses, this makes me very happy."
Next I looked for boots on the ground, folks ingrained in the community. "Ethiopia is serious about forming a green economy," says Omar Bagersh, scion of a family that has conducted business in Ethiopia for three generations.  "The government wants to do manufacturing the right way, with an eye toward sustainable processes and truly green materials with little byproduct or waste. We want to safeguard our trees and foliage, and new development will only be allowed after careful environmental scrutiny. At the same time, we are attempting to create a self-sufficient economy and feeding our people is of primary importance.  Thus while we are very conscious of GMOs, we have to feed many people and the need is urgent so while organic farming is preferred, other options may be considered."  Thus there exists a natural tension between sweeping development vs. sustainable development that will be good for the environment as well as the population in the long term.
Bagersh was educated in the U.S.  He and his family are primarily engaged in running coffee plantations, among other businesses.  I visited him in his spacious Addis Ababa home, decorated with gorgeous African artwork and looked after by a generous fulltime staff.  "We are entering the next phase of our Growth and Transformation Plan (aka GTP2)," Bagersh explains.  "This reflects the government's desire to build and strengthen the private sector leading to more jobs.  Foreign investment is encouraged, and this will be supported by additional public sector spending. Addis Ababa suffers from pollution; the government is aware of this and wants to eradicate this problem." I did get the feeling that the regime will not allow environmental abuses such as strip mining, and that it will definitely not be open season for anyone with a checkbook. Indeed, the government's vetting process for new businesses from abroad is time consuming, detailed and slow-moving, which can be frustrating to many investors. Thus patience is a virtue in this regard.
That said, the Chinese have a huge head start on the West in terms of investment and this is visibly apparent.  China is building roads, schools, hospitals and other infrastructure in a highly noticeable way throughout the Addis Ababa metro area.  One can assume that in return, they have negotiated a mutually beneficial relationship in industry, agriculture, as well as real estate projects. "We are open to Western investment but many deals are just now in the feasibility stage. Meanwhile, Chinese investments are making sizable investments that are directly impacting the lives of our citizens," Bagersh said.
A few moguls of Ethiopian business do exist, among them is Mulugeta (aka known as Mole by close friends), who has interests in real estate development, night clubs, mining, logistics and stone quarries. Although diminutive in stature, Mulugeta cuts a striking figure nonetheless with his lengthy white beard and Gucci wardrobe.  His office is sleek and filled with large format oil paintings by many of Africa's most noted artists; his collection of African art is said to be among the best on the continent.  He was educated in the U.S. and has been in Ethiopia for 18 years.  Among his varied interests is a local winery, with his partner, rock musician and entrepreneur Bob Geldof.  He employs over 2,000 people combined, and is married with five children.  "We have very little crime here," Mulugeta states definitively.  "Electricity is very cheap.  Our government is stable.  Our people want to work…we want to feed ourselves.  Our education system is beginning to produce results.  The government is providing healthcare and trying to teach the principles of birth control.  If not for this, our population would be over 120 million already.  So we are making progress.  We need infrastructure and we want foreign investment."
I also wanted to speak with an expatriate living in Ethiopia.  Who better than a fair skinned, blonde German named Frank Michel.  50ish Frank runs a mid-sized IT business in Addis.  He is married to an Ethiopian woman and has lived between Addis Ababa and Munich for 23 years.  "Ethiopia has averaged 9 percent GNP growth over the last decade, which is among the highest in the world.  This should hopefully lead to what we need most here, which is the emergence of a legitimate middle class.   The government here would love to elevate a significant percentage of its population to this level," Michel said.
Of the 90 million Ethiopians, about six million reside in the Addis metro area.  Average income here is about $50 per month, and while the cost of living is proportional to this, over 29% are still living below any type of measurable poverty level (World Bank, 2010).  There is a broad and growing network of schools and universities, and while the Ethiopians are proud of this, the literacy and depth of knowledge of their graduates still pales in comparison to Western education, thus many high performers seemingly seek out schools abroad.  This is a key factor for foreign investors, as in, is there a capable, educated, trainable base of employees that can be hired to run and staff your Ethiopian branch?
So what is Ethiopia really like?  Meaning, could someone from a large American city make a go of it here?  The answer is, only if you are adventurous, flexible, have a stomach for exotic spices and very different foods, and can appreciate the growing pains of an economy in transformation.  Power outages are frequent, rainy season is sometimes relentless, neither motorized transportation nor the roads are anywhere near what we are accustomed to, and "luxury" accommodations are not readily available.  (I stayed at a Hilton which was a decently appointed business and expat hostelry…as is the Addis Ababa Sheraton which was costlier and a bit nicer but sorry no Aman or Four Seasons…yet). The food is different, strongly spiced, and one has to be careful with the fresh fruits and vegetables as some are not grown and washed to our cleanliness standards – I noticed that even the locals will eat them only at certain restaurants that boast organic veggies.  Meats are a central part of the diet, along with injera, an Ethiopian bread made from teff flour that serves as a tasty crepe-like shell for "tibs" (Ethiopian filet) and/or "shiro" (Ethiopian lentils). A good strong 4×4 vehicle is recommended as roads are often unpaved, filled with potholes, and generally very rough.  Public transportation is also sporadic at best.
The people of Ethiopia seem happy and proud of their country.  They are open and friendly to Americans.  They express a willingness to work with foreign business interests if new jobs can be created.  They are artistic, with many interesting takes on indigenous painting, sculpture and crafts…the best of which command Western pricing.  They do speak English although Ethiopia has a staggering 88 languages and 200 dialects. Amharic is known as the official language of the country and is a bit similar to Arabic. A variety of different dialects are spoken throughout the many villages that dot the hinterlands.
Perhaps most importantly, I really did get the feeling that the Ethiopian government cares about its citizens and wants to feed them, wants to get them jobs, wants to educate them, wants to teach them family planning, and more.  Which is a lot different from other developing countries that exist primarily to line the pockets of their dictator-leaders and their cronies, at the expense of the actual citizens whom the aid was intended for.  While there is rumor of a large "secret police" force, and in a recent election the EPRDF received 100 percent of the vote, I have no evidence other than my impressions but it seems to me that the government has support of its citizens not by fear of the sword but by its desire to provide better lives for the citizens of Ethiopia.  What a concept!